A guest post about the Creative Process from Daniel A. Rabuzzi, author of The Choir Boats (#1) and The Indigo Pheasant (#2).
The first in Daniel Rabuzzi's Longing for Yount young adult fantasy series - The Choir Boats, was released in Fall 2009. It received excellent reviews from SF/F bloggers, as well as critics. The second book, The Indigo Pheasant, the series conclusion, is scheduled to be released in a few days. Both are published by ChiZine Publications.
In honor of this newest book's release we have the pleasure of reading about the thoughts and creative processes of its author, where below, he tells us about his in-depth, intriguing and helpful workings while creating his novels. So, let's welcome him!
photo:© Kyle Cassidy, all rights reserved
---
A Picture-Show in the Night-Kitchen
Thank you Shellie for inviting me to post at Layers of Thought. I will describe my creative process, not as a "how to" but hoping to spark responses from the Layers of Thought audience, so that we learn from one another. Each of us creates in a unique way; I am fascinated by the infinite variety of means and methods.
I am an "imagist," rather than a "plotter." My stories build out from images and scraps of words, with little structure or end-point in mind at the outset. I do not have a story that needs words, I have words that need stories. Before the words even, I have images.
I start with the small, the idiosyncratic, the particular. (In graduate school for history, I was dubbed one of the "truffle hunters," as distinct from our opposite numbers known as "balloonists"). Colors come before the composition, the line before the fleshed-out thing. Characters arrive on the scene seemingly without any pre-determination by their author: one early morning or sometimes just past midnight, a character announces her- or himself, and that's that. And my task thereafter is to make the plot-lines and motivations work to suit the new set of facts. Sometimes it happens that characters exit the story altogether, as if they had never existed, just as expeditiously as others appear... all based on the pictures that my mind finds on the top shelves of the pantry and at the back of the cupboards, usually as I sleep.
I wake up, often at 3:00 or 4:00 a.m., with an image in my head. Indeed, the image wakes me, forces me to pay attention. The image ripples and hunts in the unlight around me, or stands and broods in a vista shaped by shadows just south of my bed, or laughs and sings in a meadow of unfolded clothes on the floor. Maybe it is a bone-white owl with fiery eyes and an impossibly long tail streaming behind it. Maybe it is a tower wrapped in a thicket of thorns high on a cliff by the sea. Maybe it is two women poring over a letter by lamplight, one of them gasping. Sometimes the image is nothing more than a single word or a sentence, a short text hanging like a fragment of tapestry in front of my awakening eyes. Sometimes the image is pure color and line, sometimes a primal shape: fields of woven blues that speak to me, rhythmic reds and dancing, densely layered hues that I cannot always name; a radiant burst, or a ponderous rectangle that proceeds up into the clouds, a wall of shapes cupped and beveled. (*)
Then comes the deliciously desperate scramble to capture the image, to fasten it in words to a piece of paper. (If I can offer any advice to novice writers, perhaps it is to keep by your bed a notebook, or even better a sketch pad, and many pens and pencils, to be at hand when you fall out of the night-kitchen). Treasure the notebooks and sketchpads, they are the feedstock for all that comes next.
I rarely understand at once what the images mean. But the images beckon and tease, they demand a story that explains them. I very much want to know who or what they are, what they intend. What is the identity of the deadly owl, who is he pursuing and why? Who is dreaming in the thorn-fenced tower by the sea, what emperor or witch set that person there...as a punishment, or as protection? Who are the women reading the letter, who sent it, why the gasp? The colors that shimmer just out of reach conjure a mood I must convey, are the mood I am trying to convey: the color of melancholy or joy, of languor or ambition. Above all, I try in my writing to capture the essence of color, as the closest element to true understanding of the world, in harmony with music and mathematics. (**)
So, I am an imagist. My way of writing could be termed "internal ekphrasis," as I describe and explore the pictures that my night-kitchen produces. (My deep love of still life painting is surely both a precondition for and an outcome of my process of creative writing.) I follow Gerald Manley Hopkins on the inscape of a thing (and the instress that allows us to perceive the inscape wholly and truly), I agree with Wassily Kandinsky and Paul Klee on the spirituality of the image. As Klee said, "The picture has no particular purpose. It only has the purpose of making us happy." Happy not necessarily as in unscathed or uninformed by pain, but satisfied that we know the meaning of a thing, or at least its story.
Again, my only advice will be to stay alert to the pictures that may form in your mind, and to get them on paper as soon as they appear. Use whatever you have, if you are caught without a proper sketchbook. I am known at work for scribbling and sketching in the middle of otherwise strenuously earnest business gatherings: griffins and manticores cavorting across budget statements, snippets of fantastical prose hanging from the minutes of board meetings. Dry cleaner's bills, napkins, envelopes...they will all do. Just grab the image, nail the floating words to something solid.
Store these for later use. The word "hobbit" reportedly popped into Tolkien's mind one dull summer afternoon in the 1920s while he was grading exams (Tolkien wrote the opening line of The Hobbit directly onto a student's exam book). He did not know what a hobbit was then, but knew he had to find out. Sometimes the wait will be long. For example, one November evening in 1979, these words came to me, pretty much fully formed: "On the sway-back slopes above the shore unreachable grew sugar-trees with arak berries/ sailors sighed over their half-gummed hard-tack." I still am no closer to knowing where that shore is or who those sailors are, but I have never quit the quest to find out.
Eventually the story, with its characters and their wants, its settings and phases of the moon (if your setting in fact has a moon), will emerge from the images. The colors will yield up their secrets, the half-texts will knit themselves into a story. Or maybe not. Don't discard the stories that run out into the sand. They are most likely part of another tale, one that is still there waiting under the shore, or at the roots of those sugar-trees with their arak berries.
Of course, you may not be an imagist. You may be a plotter, a story-boarder. I have immense admiration for those who move from story to language and image, because I do not (probably cannot) write that way. The writers for the great multi-season tele-dramas are to me powerful wizards controlling narrative arc and character motivation in ways as mysterious as they are effective. Watching favorites such as The Wire and The Sopranos, Treme and Battlestar Galactica, and the filmed version of Game of Thrones, I am awed by the precision and eloquence of the script writers.
Thank you again Shellie for allowing me to share some insights into my own process. I am eager to hear from others how they approach and execute as they shape stories of the fabulous.
(*) I keep thousands of images in folders or bookmarked at websites and in a library full of art books (it helps that my wife, Deborah Mills, is a professional artist). I suppose they must influence the direction of my dreaming...but equally I look at and to them for approximations of what I have already seen in my dreams. Images that resemble the strokes of a Robert Motherwell or a Cy Twombly, the gunpowder swirls of a Cai Guo-Qiang, the bars and patches of a Joan Mitchell, float and limber across my nightscapes. Luminous veils of color immerse me, like the soft but inexorable pull of a painting by Mark Rothko or by Helen Frankenthaler; I skid along placid chromatic geometries that I think Richard Diebenkorn would have favored. Sometimes vaguely biomorphic shapes emerge within the color, creating vistas that could be painted by a William Baziotes, an Antoni Tapies or an Yves Tanguy. Sometimes shapes and line are paramount, monochromatic or very subtly shaded solids, ordered like a sculpture by Louise Nevelson or by Leonardo Drew.

(**) In my commonplace book, I have a special section just for descriptions of colors. Here is one example I return to often for inspiration, a passage from Jorie Graham's "The Dream of the Unified Field," in which she describes a crow: "Close up, he's blue - streaked iris blue, india-ink blue - and black - an oily, fiery set of blacks - none of them true...[...] indigo, cyanine, beryl, grape, steel...Then suddenly he wings and - braking as he lifts/ the chest in which an eye-sized heart now beats-/..."
© Daniel A. Rabuzzi 2012
---
Information for the the Longing for Yount series (covers link to Chizine's page for the books):

The Choir Boats (#1) September 2009; Chizine Publications; 406 pages. Read an excerpt from The Choir Boats.
London, 1812 | Yount, Year of the Owl What would you give to make good on the sins of your past? For merchant Barnabas McDoon, the answer is: everything.
When emissaries from a world called Yount offer Barnabas a chance to redeem himself, he accepts their price -- to voyage to Yount with the key that only he can use to unlock the door to their prison. But bleak forces seek to stop him: Yount's jailer, a once-human wizard who craves his own salvation, kidnaps Barnabas's nephew. A fallen angel -- a monstrous owl with eyes of fire -- will unleash Hell if Yount is freed. And, meanwhile, Barnabas's niece, Sally, and a mysterious pauper named Maggie seek with dream-songs to wake the sleeping goddess who may be the only hope for Yount and Earth alike.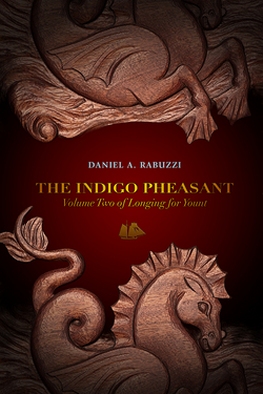 The Indigo Pheasant (#2) October 2012; Chizine Publications; 350 pages. Read an excerpt from The Indigo Pheasant.
London, 1817 Maggie Collins, born into slavery in Maryland, whose mathematical genius and strength of mind can match those of a goddess, must build the world's most powerful and sophisticated machine -- to free the lost land of Yount from the fallen angel Strix Tender Wurm. Sally, of the merchant house McDoon, must choose either to help Maggie or to hinder her.
Together -- or not -- Maggie and Sally drive to conclusion the story started in The Choir Boat, a story of blood-soaked song, family secrets, sins new and old in search of expiation, forbidden love, high policy and acts of state, financial ruin, betrayals intimate and grand, sorcery from the origins of time, and battle in the streets of London and on the arcane seas of Yount.
Bio: Daniel A. Rabuzzi has an educational background in folklore and mythology, as well as a doctorate in 18th-century history. Once upon a time he was a Banker, but now he writes novels, poetry, short fiction, and scholarly articles on a variety of subjects.
Daniel lives with his wife – artist Deborah A. Mills (pictured above and the artist who provided the carvings for the cover art for Daniel's books.) They live in New York City with their two cats.
To find out more about and to connect with the author: Website; Facebook Page; Blog; Goodreads; and Twitter.
And for more about artist Deborah Mills, link to her website.
Two related giveaway events are coming soon:
The Choir Boats (Longing for Yount #1.) In ebook format so it's international! The giveaway will be posted at the end of October.
3 Sets of Printed Cards created by Deborah Mills for 3 lucky winners in November! They will be signed by the artist.
---
Thank you Daniel! What a pleasure it was to read, and share with our readers, your creative process!
Friends and readers please tell us about yours.